Join us on Tuesday, April 17 at Pawleys Island Brewing Company (2668 Industrial Avenue North Charleston, SC 29405) for the April 2018 gathering of Charleston Green Drinks!
Conservation Beyond Our Walls
Come out to one of Charleston's newest breweries to hear how the South Carolina Aquarium is working beyond its walls to protect water, wildlife and wild places. Listen to a short talk by Kelly Thorvalson, Conservation Programs Manager, and connect with several members of the Aquarium Conservation Team to learn how you can get involved! The brewery is generously donating $1 from each pint purchased during Green Drinks to support the Aquarium's conservation programs.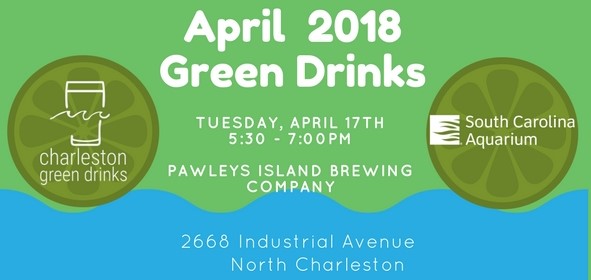 About Charleston Green Drinks: Charleston Green Drinks creates space for community members to connect and learn about environmental resources and opportunities in Charleston. Our goal is to have fun, network and be inspired by new knowledge. All are welcome.
NOTE: If you'd like to receive email updates from any of our 2018 Charleston Green Drinks hosts, be sure to tick their box on the signup form to the right.